Derby High seniors turned the tassel at graduation Saturday at Koch Arena, capping four years of hard work and achievement.
Following the arrival of the 2019 graduating class, the ceremony kicked off with a performance from Derby vocalists, who sang "A Million Dreams," from the soundtrack of "The Greatest Showman."
Student speakers Litzy Cerda Anima and Brett Jones provided farewell messages to their fellow classmates after the first of many "dad" jokes told by Principal Tim Hamblin to lighten the audience's mood.
"Why are skeletons afraid of the dark?" Hamblin asked Anima. "Because they have no body to go with."
Born in Mexico, Anima moved to the United States with her mother at age 3.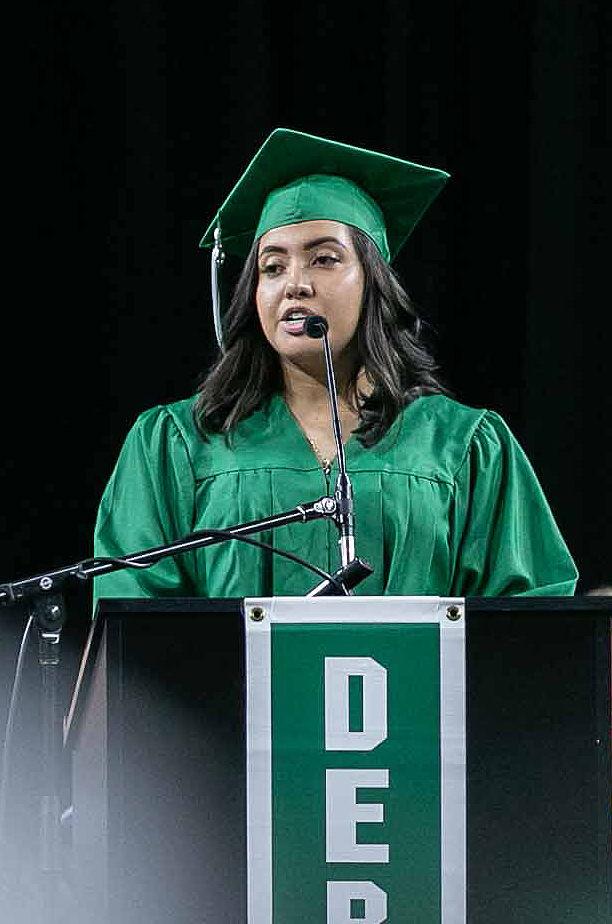 At DHS, she was involved in Key Club, KAY Club, and International Club, and Panther Pals – a program that works with students who have special needs.
"Through those experiences, she learned the value of teamwork, communication, and how helping others can make you feel really good," Hamblin said.
Anima's speech expressed gratitude toward DHS teachers, focusing on their role in helping students overcome challenges and preparing them for the real world.
"As we faced the switchbacks of the mountains, you motivated us by raising the bar and boosting our self-confidence, which inspired our best performance," she said.
Anima thanked DHS coaches, counselors, custodians, administrators, and parents.
With eyes set on the future, she also encouraged her classmates to take the initiative in forging their own fate.
"Some of us here, including our parents, are wondering how our lives are going to turn out," Anima said. "It's OK to wonder, but I believe it's even more important to realize that our future's not just something that happens to us; it's up to us to create it."
Jones, a member of the DHS yearbook and president of the Technology Student Association, is known around the school for his filmmaking abilities and sports segment on DTV – a student-run broadcasting program at Derby High.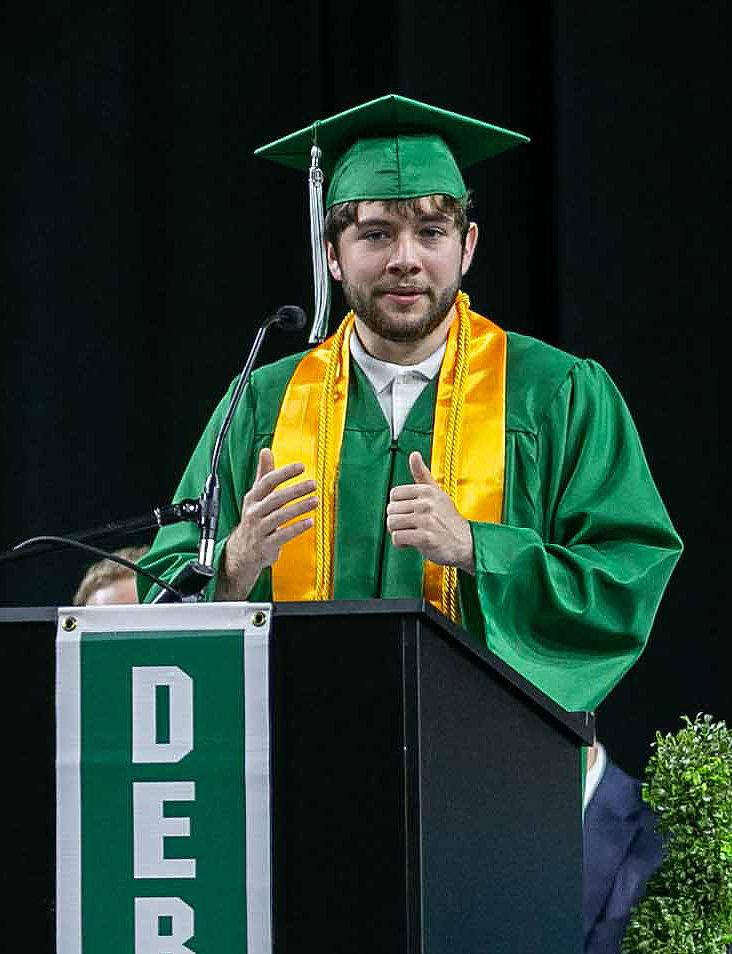 "An unbelievably gifted individual when it comes to film [and] editing," Hamblin said in reference to Jones. "Brett has made literally hundreds of videos throughout his time at Derby High."
In his speech, Jones said graduation is all about celebrating the memories and achievements garnered by the seniors – as well as the family members who supported them along the way.
"Family is a lifejacket in the stormy sea of life," he said, quoting famous author J.K. Rowling.
Through the relationships and friendships he's formed at the school, Jones said he now has another family in the DHS student body and staff.
"In this arena, there is someone, some group, or a whole lot of people that have your back," he said.
Hamblin's pre-commencement speech focused on the definition of a real-life panther, comparing the wild cat's traits to those of the graduating class.
A black cat with black fur is generally referred to as a panther, he said. "They can come from several different families: jaguars, leopards, cougars, pumas."
"We all come from different families," Hamblin said. "As a student at Derby High School, assembled today in green, people generally refer to us as Derby Panthers."
Hamblin listed other characteristics of the panther: highly intelligent, tenacious, resourceful, protective of their territory, and extremely rare.
He used each of those characteristics as an opportunity to recognize distinguished groups within the graduating class.
First were academy students, who earned their associate's degrees before their diploma by completing college coursework in high school.
Their panther trait? Tenacity.
Next, Hamblin recognized Katrina Mason and Malayna Unkel for placing as finalists in the National Merit Scholarship Program.
"Few people that pursue it actually achieve it. There are schools that will never have national merit finalists; Derby High has two," Hamblin said.
As a sidenote, Alyssa Gamboa earned a 4.775 GPA on a four-point scale.
Graduates with honor cords, National Honor Society stoles, and medallions of knowledge were asked to stand and receive recognition.
Derby High School was also recognized on the 2019 AP National Honor Roll for the second time in a row.
"Like a panther – smart," Hamblin said.
Students going to trade school programs were recognized next.
"Also smart, but resourceful," Hamblin said. "Many students … like to work with their hands, solve problems."
Many of the students graduating had already received certifications to go into the workforce industries, Hamblin said, including nursing, welding, and aviation.
Seniors headed into the military were given a roaring applause from the audience.
"They have an extremely strong desire to protect our territory and the freedoms we love," Hamblin said.
Conner Grosso, recipient of the Air Force JRTOC scholarship, was recognized by name. The scholarship is worth over $100,000.
"Every single one of these young men and women has a story worthy of being told; there's simply not time," Hamblin said.
Athletic achievements were also recognized, including Kennedy Brown's selection as a McDonald's All-American. This year marked the first time the school had individuals on two different state-championship teams in its history.
Following commencement, Hamblin left graduates with a famous Dr. Seuss quote:
"Don't cry because it's over. Smile because it happened."