Nearly 30 years after starting with the Derby Police Department, Matt Liston is ready to call it a career.
On May 24, he'll be retiring from his day-to-day position as a Derby police officer. The master patrol officer does plan to keep a part-time job of doing safety and security at the district level, while continuing his work in training school resource officers nationally through the National Association of School SROs.
"I feel like I've done my time and it's run its course," Liston said. "… A couple of things happened in the last year that I've known it's time [to step away]."
Liston's decision to retire puts a cap on a decorated career that began as a third-shift officer in 1992. His dreams of one day being a police officer began in sixth grade and never wavered through a stint with the Marines. He also knew he wanted the opportunity to work with then Derby police chief Delbert Fowler.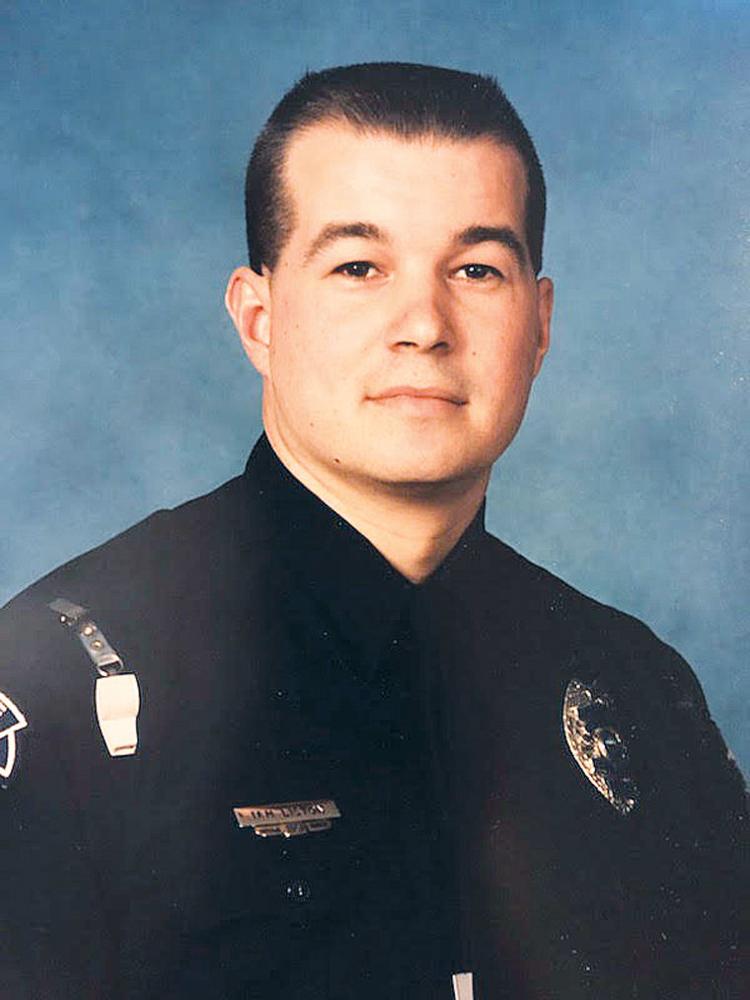 "He was a great chief," Liston said. "As a former Marine as well, he had a hardcore attitude about stuff and that's the guy I wanted to work for. That's really what made me stay."
While Fowler left a few years into Liston's career, the family's roots were already deeply engrained.His sister lived in Derby, but when he and his wife began the process of purchasing a home, the community had Liston at first knock. Twenty-plus years later, their name has yet to leave the phone book.
Working third shift with the police department, Liston remembers sitting on Rock Road and watching a two-lane road at a 30-MPH speed limit. It wasn't always fruitful, but he knew it was where he wanted to be.
"For a lot of people and what they do for a living, it's just a job," Liston said. "In law enforcement it's more of a lifestyle. We're kind of our own sub-culture and we're like teachers where we almost have our own language."
Knowing he had a family at home through his shifts only made him want to work harder.
"I felt like I had a stake in wanting to keep Derby safe because my family [wife Dara, sons Tyson, Colby and Reid] and I lived here," Liston here. "I started out on third shift and going out at night and catching burglars, bad guys and writing DUIs – I felt like I was protecting my city."
What he didn't see coming was an opportunity to help school security evolve in ways no neighboring district had seen before.
Shortly after starting his career with Derby police, Liston got bumped to second shift and Ginny Hall approached him about being a school resource officer.
"I loved what I did [in serving the community] but I just didn't love second shift that much," Liston said. "I thought it was my chance to get off it, so I agreed to do it."
Liston became the first SRO in the Wichita area in 1997 and said he had found his niche.
"Once I started doing it, I really felt like it was my purpose in life," he said. "I felt like it was the reason God brought me to Derby. It was the reason why I felt I was doing what I was supposed to be doing."
While the role felt like the perfect fit, Liston wasn't always met with thumbs-up approval. Some administration members weren't sure it was a needed position, but the longtime officer said he took it as a challenge.
"I tell people that I'm a pre-Columbine SRO," Liston said. "In 1999, it changed for everybody … It was before Pearl, Miss., Jonesboro, Ark. … it completely changed the culture of school safety."
While also being a part of DARE in Derby Public Schools, he is one of the founding members of what is now the Kansas Juvenile Officers Association. He also has been tied to NASRO for over 20 years and plans to carry those ties forward.
"I took a lot of what I felt in protecting the city on the streets and into the school," Liston said of his daily mindset. "It became more personal because you get to know these kids well."
The longtime officer is excited to keep a role in USD 260 security. He also said he's grateful for how the community has supported and worked with him over the last 27 years.
"The parents understand the purpose of an SRO and have also supported the DARE program," Liston said. "… Those programs have failed left and right and I don't think the citizens of Derby would let that happen. It's a big thank you to Derby for supporting that program and wanting to keep SROs in our schools."