Cheers filled the east-end baggage claim at Eisenhower National Airport Friday as Kansas veterans returned from a three-day trip to war memorials in Washington.
The veterans had traveled to D.C. on behalf of the Kansas Honor Flight. Among the crowd greeting the veterans were friends and families, fellow veterans and active military members, patriots, and a group of second graders from Tanglewood Elementary.
Besides welcoming the veterans home, the second graders had a mission: to present the $2,555 they had raised in two weeks — enough to cover three future trips through the Kansas Honor Flight.
Melissa Rogers and Erin Parham's second-grade classes originally wanted to raise $800, which is the cost of one trip.
They were able to quickly pass that goal, the teachers said.
"It's been awesome to see the community rally behind this," Rogers said.
She credited the military-centric Derby community in-part for the success of the fundraiser.
The students also promoted the fundraiser through a video on Facebook, which garnered over 8,000 views and brought in over $1,000 donated directly on the platform.
Donations were not all local. Some came from as far as South Carolina, California, and Texas.
As a volunteer organization, the Kansas Honor Flight provides memorial trips for veterans of World War II, the Korean War, and the Vietnam War. The organization provides around 11 or 12 trips a year, beginning in April.
At the end of 2018, the non-profit had provided trips for 2,080 Kansas veterans.
David Blanding, welcome-home coordinator for the organization, said the trip to D.C. provides an opportunity for veterans to open up about war experiences and heal. 
"As they get there, they see the honor that they should have deserved when they got back," Blanding said.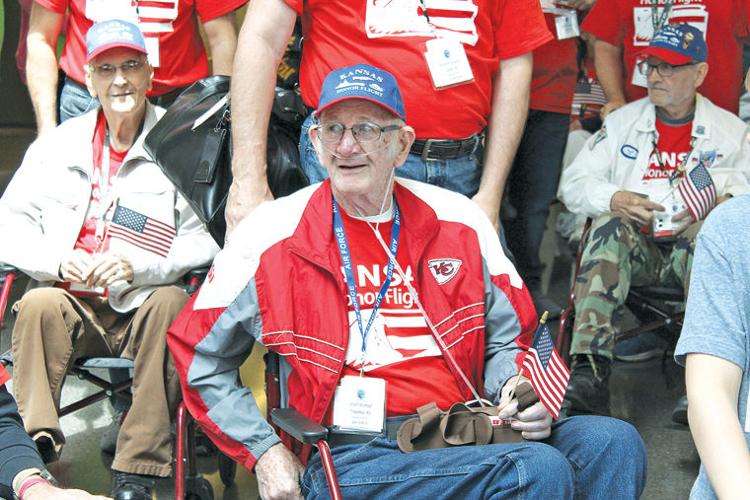 Blanding, a member of the Marine Corps from 1975 to 1984, said he was surprised by the results of the Tanglewood students' fundraiser.
"I thought they were very ambitious," he said. "It's just blown me away that second graders could do this."
Beyond civic engagement, Parham and Rogers said the fundraiser provided numerous educational opportunities for the students.
"We taught the kids about the wars these veterans were in, and how a lot of them weren't welcomed home at that time," Rogers said.
Seeing the success of the fundraiser, Parham said there are plans to hold it school-wide next year. She hopes it may eventually reach the district level.
Standing in front of 32 veterans — 29 from Vietnam and three from Korea — the second-graders joined in singing "God Bless America," before presenting thank-you cards and the money they raised.
Four of the students expressed gratitude through prepared statements.
"I'm really thankful you went and fought in the wars so we could live in this free country today," Keav Jesseph said.